About Us
As all living beings are marching forward on the wheels of 21st century, the road needs to be more progressive and cultivated. Those day are gone, when an individual had to walk a far distance in the morning dawn, to meet the invisible bathrooms in open space of farm fields. Owing to the essentials of desirous washrooms in the comfort zone of an individual's home, we came into being. We are recognized as Raghuvir Ceramics, one of the leading Manufacturers, Exporters and Suppliers of Ceramic Based Products. Some of our products include Wash Basin, Ceramic Wash Basin, Antique Ceramic Wash Basin, Portable Ceramic Wash Basin, Luxury Ceramic Wash Basin, Water Closet, MD Pan, Urinals, etc. The products associated with us are made by the use of spotless raw materials, which makes them durable and provides a perfect dimensional finish. Moreover, our memberships with Panchal Ceramic Association, Federation Of Thangadh Ceramic, Federation Of Vagadia Ceramic Association And Zalawad Chamber Of Commerce, adds to our value and integrity.
Established in 1992, we have stocked all kinds of experience and knowledge, to make our place in the roots of the industry. To add, our immaculate tools and machinery are sufficient enough, for the production of quality ceramic commodities. Moreover, we are blessed to have the cluster of intelligent and talented team members, who undertakes every authorized task with full responsibility, and comes up with satisfying solutions for our valued clients. Furthermore, the facility of warehousing and packaging, guarantees the storage of products without any kind of flaws. Our cost competitive and honest Customized service measure, makes us one of the genuine market players of the industry. Summarizing the facts, under the visionary and potential guidance provided by much talented and ethical business leader, Late Mr. Jivrajbhai Prajapati, we have made our name count among the names of successful business organization.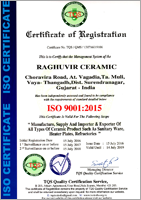 Research And Development
The fact of innovation adds to the brilliance of the respective products, have made us work on the grounds of R&D. A team of market research professionals conducts surveys, conferences, etc, around the market and gathers the information about latest on-goings and patterns of the market place. This in return, helps us to make sufficient technical changes in our products, to remain updated with the upcoming market trends.
Quality Analysis

Quality is the backbone of our organization, which presents us the power to survive on the grounds of market competition. To add, we are facilitated with in-house quality checking unit, which caters to the demands of quality parameters in products like Wash Basin, Ceramic Wash Basin, Portable Ceramic Wash Basin, Wash Basin With Pedestal, Water Closet, MD Pan, WEC, Etc. Our experienced and well trained quality auditors keeps stringent eye on every process, initiating from the manufacturing to the final delivery of the product range. These checking and quality tests assures the perfection of respective ceramic commodities.

Product Range

Our products are made by the use of fine and pure raw materials, which provides them the features of strength and durability. The list of our product range is as follows:

Wash Basin
Ceramic Wash Basin
Antique Ceramic Wash Basin
Portable Ceramic Wash Basin

Wash Basin With Pedestal
Anglo
Squatting Pan
Water Closet
Urinals
WEC
Accessories
Rustic/Double Color Series
MD Pan
Infrastructure
The ever growing market demands, and the quest for satisfying solutions, have compelled us to construct an unique and state-of-the-art infrastructural base in our compound. We are equipped with all kinds of tools and machinery, that backs in producing and delivering immaculate products to our esteemed clients. Furthermore, our assorted departments are outfitted with knowledgeable team members, who executes their projects and assignments with result oriented solutions. In addition to this, our special wing for warehousing and packaging, ensures safe and secure storage of the concerned product range.